Holly Holman Named ALASBO School Business Official of the Year
Tuesday, January 06 2015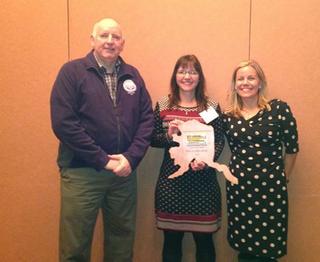 Congratulations to Holly Holman, Business Manager of Unalaska City School District who was named the Alaska School Business Official of the Year at the Alaska Association of School Business Official (ALASBO) December 2014 annual conference in Anchorage. Candidates for this prestigious award are nominated by their colleagues within the Alaska school business profession. Annually, a panel of previous recipients selects a deserving individual from the nominees submitted based upon their recognized outstanding service, innovative plan design and implementation, and the use of exemplary business practices within school business management.
The award has been sponsored for the past sixteen years by Penair. The recipient receives roundtrip travel certificates, a check for $500 and an engraved plaque.
For more than two decades, Holly Holman has guided the planning and implementation of the annual school district budget for Unalaska City School District, while also managing all aspects of the district's finances with just one part-time staff person. She is skilled at presenting the complexities of school finance, anticipating and responding to questions. In addition to her job responsibilities, Holman is an active and respected member of the Unalaska community, having served on various boards and commissions. Among her colleagues, she is known for her professionalism, integrity and positive attitude!
Holly Holman has been active in ASBO International and ALASBO. She is currently Secretary of the ALASBO Board and will be ALASBO President in 2017.
Congratulations, Holly, on this well-deserved honor!