Wednesday, December 29 2021
Here is a link to the amazing holiday play, A Christmas Carol. Please note, this link is for play participants not for general distribution.
Unalaska Community Theatre in partnership with KUCB excitedly present A CHRISTMAS CAROL, the radio play
Friday, December 24 at 7 p.m., rebroadcasting Saturday, December 25 at noon and 5 p.m.Tune in to hear this classic tale performed by members of our community as we present Unalaska's second annual holiday radio play
---
Thursday, November 19 2015
---
Cleaning Up Contaminated Tribal Lands
Tuesday, November 17 2015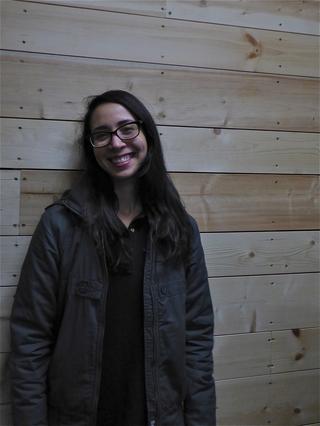 Out of over 7400 contaminated sites around Alaska, a hundred are in Unalaska and Dutch Harbor. That's among the highest concentration of contaminated sites in the state, besides Adak.
The Alaska Department of Environmental Conservation (DEC) runs the state's contaminated sites program. The program is aimed at managing the cleanup of places where the soil and groundwater are polluted, and the DEC maintains a database of all these sites. A particular site is on list if it is a location "where hazardous substances, including petroleum products, have been improperly disposed, spilled or leaked form their containers," according to the DEC. Many of the sites were contaminated during World War II and the 1950s and '60s.
---
Unalaska Is Alaskan Economic Engine, Says Mallott
Saturday, November 14 2015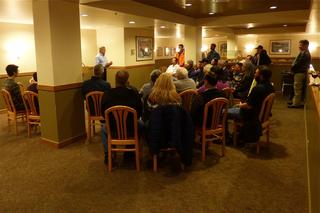 Alaska's Lieutenant Governor Byron Mallott made an official visit to Unalaska on Nov. 6 and 7, 2015. During his stay, Mallott stopped into the KUCB studio for an in-depth interview on issues important to Unalaska residents.
We aired a portion of this interview on the Nov. 11, 2015 noon and five p.m. newscasts. Here is the entire 25-minute interview, during which Mallott speaks about housing, ferry service, airfare prices and looming cuts to state services and programs.
---
Museum Of The Aleutians Director Resigns
Friday, November 13 2015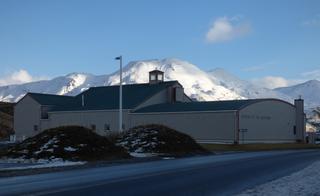 The head of Unalaska's Museum of the Aleutians resigned this week after being reprimanded for breaching museum protocol.
Executive director Zoya Johnson's resignation was the latest development in a chain of events that temporarily closed the museum and prompted questions over the security of items donated to the museum's collection since the late 1990s.
Johnson delivered her notice prior to a museum board meeting on Monday, Nov. 9. The board continued that meeting on Nov. 13, and voted early Friday afternoon to accept Johnson's resignation.
---
Unalaska Man Wanted For Alleged Sexual Assault
Friday, November 13 2015
Unalaska police are looking for a man they say is wanted in connection to an alleged sexual assault early Friday morning.
A no bail arrest warrant was issued for Daylen Luff, 31, after police filed a criminal complaint in district court Friday. The complaint included two counts of sexual assault 2, contact without consent. A magistrate judge ruled there was no probable cause for the second count, but did issue a warrant for the first.
---
High Wind In Unalaska Blows Out Windows
Wednesday, November 11 2015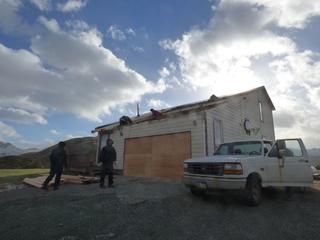 A powerful windstorm blew through Unalaska Wednesday, closing schools and causing minor damage.
Meteorologist David Kochevar at the National Weather Service office in Anchorage said his agency clocked wind speeds of 91 miles per hour at the Dutch Harbor Airport around 6:30 a.m. A wind gust clocking in at 93 miles per hour hit the Akutan airport at 6:35 a.m.
Sustained gusts blew over 70 miles per hour on Captains Bay throughout Tuesday night.
---
100 MPH Wind Gusts Forecasted For Eastern Aleutians
Monday, November 09 2015
This week, wind gusts in the eastern Aleutians could reach over one hundred miles per hour.
The National Weather Service has issued a high wind watch for Unalaska from Tuesday evening through Wednesday afternoon.
The forecast is for rain and a south wind to blow a sustained 40 to 55 miles per hour, with possible gusts up to 75 miles per hour Tuesday evening. Those gusts could increase to 100 mile per hour on Wednesday morning.
---
Unalaska's New City Manager Passionate About Public Service
Tuesday, November 03 2015
David Martinson is Unalaska's new city manager; Oct. 26 was his first day on the job. Martinson had a week to learn the ropes from outgoing interim city manager Donald Moore before seeing his colleague off at the airport on Saturday.
Born and raised in Tucson, Arizona, Martinson spent his first 27 years there. He attended the University of Arizona at Tucson, and when he enlisted in the U.S. Air Force, he was assigned to Tucson's Davis-Monthan Air Force Base.
---
---