10 Years On, Selendang Ayu Spill's Legacy Still Evolving


Wednesday, December 10 2014
This week marks 10 years since the bulk carrier Selendang Ayu ran aground off Unalaska Island. The ship lost power and broke in half against the shore, spilling oil and its soybean cargo, and leaving six crew members dead.
It was the biggest shipping disaster in the Aleutians' recent history -- and as KUCB's Annie Ropeik reports, its impacts are still evolving today.
---
Name a maritime disaster in the Aleutian Islands, and Dan Magone has probably helped clean it up. He's been salvaging shipwrecks since long before a real spill response system was in place.
That had changed, thanks to the Exxon Valdez, by December 2004, when the Selendang Ayu lost power north of Unalaska. But even then, Magone says:
Dan Magone: "We were very ill-equipped to deal with a ship of that size."
There was no automatic tracking to give early warning that the 738-foot vessel was in trouble -- and no heavy-duty tugboats nearby to rescue it. Tow lines from local tugs kept snapping, and the Selendang's anchors didn't hold.
Magone got on scene just as the vessel went aground, and the Coast Guard started airlifting the crew to safety. With a squall moving in, Magone went back to Unalaska.
Magone: "We landed at the airport, and I got out of the helicopter as my son was driving by in a welding truck. He pulls off to the side of the road, comes over and gives me a great big hug, which was totally out of character. But what I didn't know was the Coast Guard helicopter crashed not long after we left."
Six Selendang crew members were lost at sea – but the Coast Guardsmen survived that crash. Retired Coast Guard Capt. Ron Morris, the federal on-scene coordinator for the disaster, remembers meeting them in town.
Ron Morris: "They still smelled like the jet fuel, whatever they use in the helicopters. I mean, they reeked of the disaster, essentially."
Meanwhile, the ocean was ripping the Selendang Ayu in half. The spill that followed poured 336,000 gallons of oil and 66,000 tons of soybeans into the water and onto shore.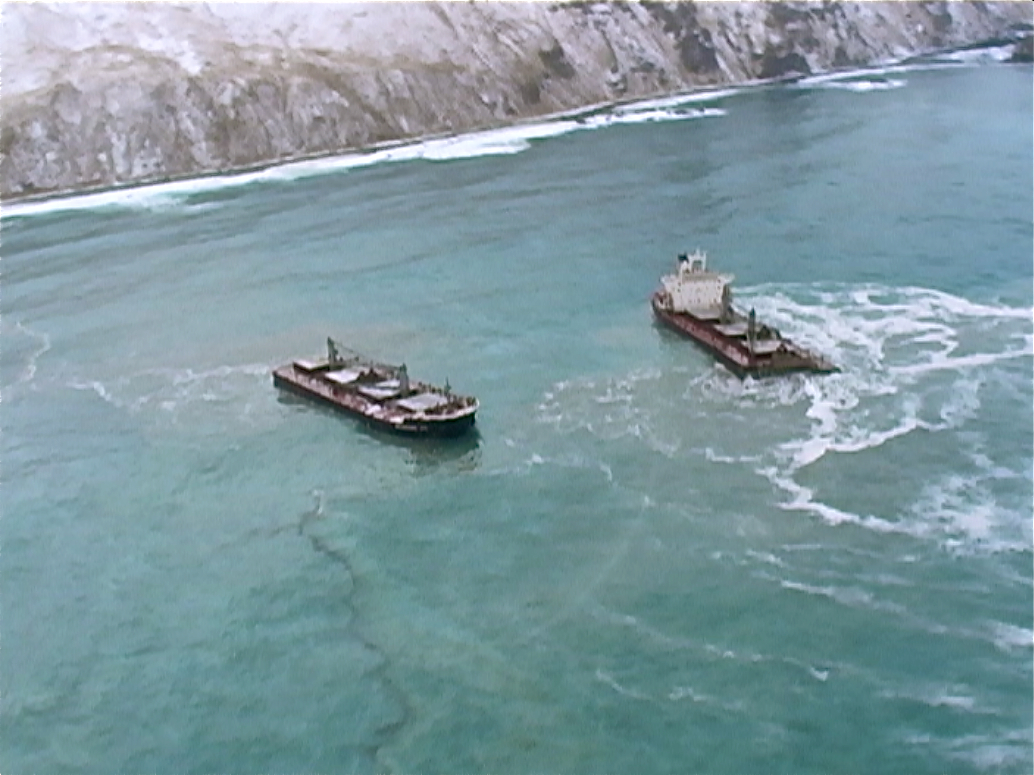 An oil sheen is visible at the wreck of the Selendang Ayu December 2004. (Lauren Adams/KUCB Archive Footage)
Magone was ready to start responding, though the weather meant his expectations weren't high -- now, he thinks they're lucky if they cleaned 10 percent of the spill.
Still, Ron Morris says locals were angry at first that the complex, multi-agency planning process and lack of nearby equipment delayed the response.
Morris: "It's just that you're so far away from everything there. You're working on the other side of the island, which is remote as well -- and those resources just aren't around the corner."
Once it began, the project would last two years. It was the biggest, longest job Dan Magone ever took on. And hundreds of locals got involved. Brenda Tellman was hired to scour the beaches for oil, rock by rock, living at the site for weeks on end.
Brenda Tellman: "Some beaches were really messy and really stinky, but I think even if you got what we got off, it was better than leaving it there. … We ended up using some seashells, that worked pretty good -- better than the [oil] scrapers itself."
A worker holds up a handful of grass, oil and soybeans found on a beach near the wreck. (Lauren Adams/KUCB Archive Footage)
Others worked to keep Unalaska's multi-billion dollar seafood industry safe from any oil that turned up close to town. The big fisheries were unharmed -- but the state did close a small tanner crab harvest near the spill.
Some fishermen found work at the wreck to make up for lost revenue. Roger Rowland was one of those. When he talks about the Selendang now, he's quick to bring up other local spills – some of them deadly, like the Kuroshima in 1997. He says yes, the Selendang was dramatic – but it's just one in a long list:
Roger Rowland: "And if you throw in near misses, you can easily call one a year -- just right here in our local waters. It's not as out of the box as we might like to think it is. It's just barely outside the box."
Still, that was enough to spark some big changes to spill planning in the region. The Selendang led to Unalaska's emergency towing system, which has come in handy in the past several years. And it resulted in better vessel monitoring – a vital tool in a high-traffic area where weather and human error will always cause problems.
But one thing some say might have saved the Selendang hasn't happened -- the dedicated heavy-duty tug. Retired Capt. Ron Morris says it's a missing piece at either end of the Aleutian chain, where thousands of ships cross over as they transit the Pacific Ocean:
Morris: "You know, if you had a towing vessel [in the west at] Adak, and there at Unalaska/Dutch Harbor, so that you could take care of vessels on the Great Circle Route in those two choke points, you'd have a much better opportunity to conduct a save on a drifting vessel."
That unfilled need has been especially significant for Dan Magone. A year ago, he merged his decades-old salvage company with Resolve Marine. The international corporation saw an in after the Selendang for one of their tugs, the Resolve Pioneer.
Magone: "Resolve thought, well, if we could hook up with Magone and use his facility and do what he's been doing to try and make income any way we can so that we can have a vessel out there until it's needed -- so that's what evolved there."
But it's not ideal for the Aleutian Islands Risk Assessment, a study funded by the settlement from the Selendang that's just now wrapping up. They plan to ask the federal government and other sources for millions of dollars to finance an even bigger tug – and a whole new response system.
Finding that funding will be a big challenge. It predates the Selendang, and still hasn't been solved, 10 years down the road.
Stay tuned to KUCB for more on the Selendang Ayu, and the future of oil spill response and prevention in the Aleutian Islands.