Family, Friends Remember Local TV's "Mr. Mick"


Friday, March 06 2015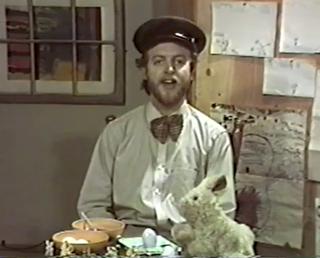 For more than four decades, Unalaskans have been taking to the airwaves to broadcast their own mix of local news and original TV shows.
Channel 8 lost a prolific volunteer from its past this winter, when Mick Roraback died at the age of 54. KUCB's Lauren Rosenthal has this remembrance of the characters he left behind.
---
When Mick Roraback first arrived in Unalaska in 1980, his focus wasn't exactly on the small screen. He came to work as an engineer on a factory trawler.
The Seattle transplant had other jobs in the fishing industry. But his mother, Pat Crisp says, "he was a natural ham."
"His performing days go back to when he was 4 or 5 years old with neighbor kids, putting on little parades [with] costumes," Crisp says. "When I look back on it, it was something he always did."
It didn't take long for Roraback to find his way to Channel 8. Besides that TV station, the only other source of broadcast information in Unalaska was a radio signal beamed in by the Armed Forces.
Lynn Fitch, the former TV station manager, says Roraback was part of a small group of volunteers who tried to fill the gap.
"We were determined, really, that if you worked 12 hours as a processor, you could go home and for an hour you could see what was going on in the community," Fitch says. "We may not have been the most professional news people -- but by gosh, we covered a lot of stuff."
[Clip of news update. Theme music plays.]
Roraback: "I'm Mick Roraback and here's a news update from Channel 8. On Wednesday, Sept. 25, beginning their first day of seven-day service and a new flight time of 12:35, MarkAir Flight 71 with 19 people on board crash-landed at the Unalaska airport."
There were no injuries that day in 1985. Over the next few years, Roraback would host countless news updates and community talk shows — some of which are still in production today. He even interviewed Senator Ted Stevens on the air.
But Roraback's real passion was for drama. He helped write Unalaska's own soap opera, "Another Day in Dutch." And eventually, he designed a character just for kids.
[Clip of "Mr. Mick's Clubhouse." Sound of telephone ringing.]
Roraback: "Clubhouse, Mr. Mick."
Caller: "Good morning, Mr. Mick. UniSea Inn. You wanted a wake-up call."
Roraback: "Okay, thank you. Goodbye! Oh, good morning, boys and girls."
"Mr. Mick's Clubhouse" aired on Saturday mornings. Roraback would put on a captain's hat and invite local children into the studio for story time and games.
Like a lot of Channel 8 productions, it was a labor of love. Roraback's friends and family members regularly appeared on the show. He enlisted his mother to mail props from out of state.
Outside the station, Roraback was big part of Unalaska's arts community. He hosted parties, put on plays, and eventually, got a job teaching music in Unalaska's school.
Local artist Carolyn Reed remembers watching Roraback in the classroom in the early '90s.
"At the time I was starting to teach for the University of Alaska [extension] and I was looking at role models of how are you effective as a teacher," Reed says. "I saw in Mick -- he was able to totally enrapture a student and bring them in and get them involved and have them just love what they were doing."
But he lacked academic credentials. In 1992, Roraback lost his job and left Unalaska. The music program kept growing after his departure. And Roraback pushed on — giving music lessons in private schools and churches around Seattle and finally moving to Brazil to teach English.
Roraback was planning to come home to Seattle this winter when he fell seriously ill. After nearly three months in intensive care battling infections, Roraback died in late January.
The news spread on Facebook, where Roraback had kept in touch with his closest friends in Unalaska -- long after he left the island.
Lynn Fitch says the relationship she started with Roraback at Channel 8 grew stronger over the years.
"He orchestrated all the music for my mom's funeral and sang "Amazing Grace." I mean, that's the kind of person that he was," Fitch says. "You were really lucky if you were his friend. You were really lucky if you weren't because everybody was his friend."
Roraback is survived by his parents, siblings, nieces and nephews, and two cats — Freddie and Ernie. A memorial service will be held at Trinity United Methodist Church in Ballard, Wash., this Sunday.