High Wind In Unalaska Blows Out Windows


Wednesday, November 11 2015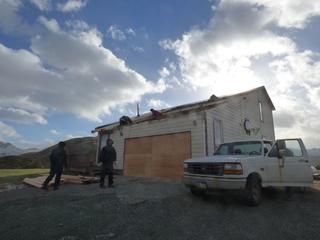 A powerful windstorm blew through Unalaska Wednesday, closing schools and causing minor damage.
Meteorologist David Kochevar at the National Weather Service office in Anchorage said his agency clocked wind speeds of 91 miles per hour at the Dutch Harbor Airport around 6:30 a.m. A wind gust clocking in at 93 miles per hour hit the Akutan airport at 6:35 a.m.
Sustained gusts blew over 70 miles per hour on Captains Bay throughout Tuesday night.
Wednesday morning, Unalaska Deputy Police Chief Mike Holman said the public safety office responded to calls about windows breaking out, a container flung across a roadway and a streetlight that blew down near the South Channel Bridge.
One person was treated at the clinic for glass in the eye from an imploding window. A window also blew out at the Harbor office. Holman said high winds damaged the roof of a home near the base of Haystack Hill.
This afternoon, neighbors gathered at a home on Trapper Drive to help the homeowner patch gaping holes in his roof. Earlier in the morning, high winds blew off a large section of the home's roof and blew out the two-car garage door.
The Unalaska School District announced Tuesday afternoon schools would close Wednesday due to a threat of severe weather. Eagle's View Elementary and Unalaska City School are expected to resume classes on Thursday.