Museum Of The Aleutians Director Resigns


Friday, November 13 2015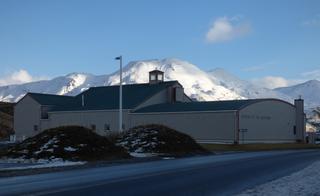 The head of Unalaska's Museum of the Aleutians resigned this week after being reprimanded for breaching museum protocol.
Executive director Zoya Johnson's resignation was the latest development in a chain of events that temporarily closed the museum and prompted questions over the security of items donated to the museum's collection since the late 1990s.
Johnson delivered her notice prior to a museum board meeting on Monday, Nov. 9. The board continued that meeting on Nov. 13, and voted early Friday afternoon to accept Johnson's resignation.
Johnson has been the museum's executive director since 2004. She also sits on the Unalaska City Council.
In mid-October, the museum's board placed Johnson on paid administrative leave and closed the museum's doors after a 19th century Russian Orthodox bible and two other religious books from the museum's collection were found in Johnson's home. The items had apparently been in her personal possession since 2009.
On Oct. 29, the museum's board voted five to two to re-open the museum to the public, reinstate Johnson, and place a letter of reprimand in her employee file. At that meeting, the board also asked Johnson to write a letter of apology to the community.
On Friday, Johnson promised to email her letter of apology to the board. Board member and Unalaska city manager David Martinson said he would distribute the apology letter to the community upon receipt.
Before announcing that Johnson's official last day of work would be Friday, Nov. 20, board member Suzi Golodoff read out loud the letter of reprimand to Johnson, who was present at the meeting. The letter rebuked Johnson for her "failure to safeguard specific collection items," but thanked Johnson for her 11 years of service as museum director.
The board agreed to hold another meeting in the near future to discuss Johnson's severance package. On Monday Martinson said he is unsure if the museum will remain open to the public through the current transition.