Museum of the Aleutians Reopens; Director Reprimanded


Thursday, October 29 2015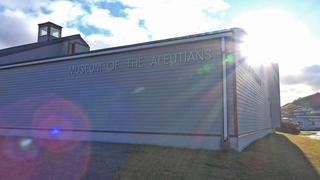 After a two-and-a-half week closure, Unalaska's Museum of the Aleutians reopened to the public today.
On Wednesday, the museum's board of directors voted to reinstate executive director Zoya Johnson from paid administrative leave. Johnson also sits on the Unalaska City Council.
The board put Johnson on leave and closed the museum after a 19th-century Russian Orthodox bible and two other items from the museum's collection were found in her house in September. The items had apparently been there since 2009.
By a vote of five to two, the board voted to return the keys to the museum to Johnson. The five -- Angela Boudrukofsky, Ann Nora Ehret, Melissa Good, David Martinson and Eileen Scott -- also voted to reprimand Johnson for "the breach in collections protocol," according to a press release issued Thursday morning by secretary-treasurer Melissa Good.
The museum board also directed Johnson to write an apology letter to the community.
Suzi Golodoff and Brenda Tellman voted against the motion to reopen the museum and reinstate Johnson. This was Golodoff's first board meeting. Last week, board member Sharon Svarny-Livingston was removed from her seat representing the Ounalashka Corporation. The corporation picked Golodoff to fill that seat.
When the board closed the museum on Oct. 12, it also voted to seek outside advice on how to handle the situation. They consulted museum services curator Scott Carrlee at Alaska State Museums and Juneau-Douglas City Museum director and Museums Alaska president Jane Lindsey.
At this week's meeting, Good read out the advice the board received from Lindsey.
"Lindsey said that we should consider the services that Zoya has rendered so far, and based on these services we should be fair to Zoya first," Good said.
Golodoff said while the board should be fair to Johnson, the stewardship of collections entails the highest public trust. "So we are not here to excuse Zoya, punish Zoya," Golodoff said. "This isn't about Zoya. This is about our museum, and we have clear duties and clear responsibilities."
"Credibility of this museum has been damaged," Ounalashka Corporation chair Vince Tutiakoff, Sr., said at the meeting. "Some of our families here do have stuff in that museum that we share with the public. I'm very concerned about that. They said there was an investigation done, that there was no wrong doing? The policies, the procedures were broken," Tutiakoff said.
Unalaska Mayor Shirley Marquardt encouraged the board to reopen the museum. She said the museum has a statewide reputation as well-run and professional.
"That doesn't happen you know, on a whim. That happens when you have very good set processes and procedures. Was one process not followed? Looks like it wasn't. Who knows, there is a lot of open questions there," Marquardt said.
The board plans to have the two outside experts, Carrlee and Lindsey, review the museum's procedures.
"I would say what is always very important in situations like this is has trust been broken beyond repair, and what does that mean," Lindsey said in an interview with KUCB last week. "And then also what are now your safeguards so that it does not happen again? What is the institution putting in place so that trust can be regained and rebuilt?"
The next Museum of the Aleutians board meeting takes place at noon on Nov. 9.