Salvagers to Begin Removing Wreck of F/V Arctic Hunter


Friday, November 15 2013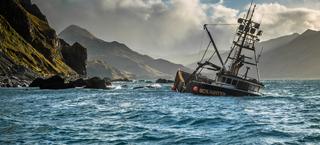 The Arctic Hunter is no longer a salvage operation -- Dan Magone of Resolve-Magone Marine Services says the grounded crab boat is officially a wreck. His crews returned to the ship today for the first time in more than a week.
"We found that, as we suspected, the hull damage is much more severe now than after the initial grounding because of that storm that happened about a week ago," Magone says.
And he says that level of damage means insurance will treat the vessel as a wreck removal, which can be more expensive than a salvage operation.
Before that removal can start, though, Magone says they have to check for fuel in one last tank. He says he's not optimistic they'll find any.
The Alaska Department of Environmental Conservation estimated this week that the Arctic Hunter leaked 6,000 gallons of diesel into the water in the hours after the accident. Magone says he thinks that fuel spilled almost as soon as the vessel hit the rocks Nov. 1.
"By the time we got there about five hours later, there wasn't any evidence of a serious spill, so it has to have already dissipated by that time," he says. "When we sounded the tanks, they were already full of water."
As for fuel recovery, Magone says they separated 5,000 gallons of diesel from the fuel-water mix they found in those tanks. The crew of the Arctic Hunter has said they were carrying about 12,000 gallons of fuel when they ran aground.
Magone says it could take anywhere from two weeks to two months to get the wreck off the rocks, depending on weather. The Coast Guard will continue monitoring those operations.
Chief Warrant Officer Mark Morrissey says officers in Unalaska are collecting evidence for the accident's investigating officer in Anchorage. He says they're still trying to pin down the details of the accident.
Morrissey couldn't say what impact the fuel spill might have on any criminal charges that might be in the works.