St. Paul Elder Keynotes Alaska's Elders and Youth Conference


Monday, October 12 2015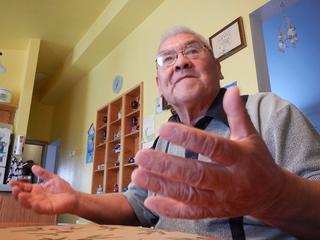 Hundreds of Alaska Natives will meet over the next three days at the 32nd annual Elders and Youth conference in Anchorage. This year's theme is "Not in our smokehouse!"
On the conference's first morning, Anchorage Mayor Ethan Berkowitz and Alaska Gov. Bill Walker declared the day Indigenous Peoples Day instead of Columbus Day.
The conference's elder keynote speaker is Aleut (Unangan) elder Gregory Fratis, Sr., of St. Paul Island in the Pribilofs.
With about 400 people, St. Paul claims to be the world's largest Aleut community.
Fratis is considered to be St. Paul's most fluent speaker of Unangam Tunuu, the Aleut language.
According to Millie McKeown with the Aleutian Pribilof Islands Association, only about 75 97 fluent speakers of the language remain anywhere. Most of them are elders like Fratis.
"We're losing speakers rapidly," McKeown said.
"There's very few people of my age who speak fluently," Fratis said. He said he thought there were 11 surviving Aleut speakers on St. Paul.
Born in 1940, Fratis survived being interned in a de facto prison camp outside of Juneau in World War II, along with the other Native residents of the Aleutians and the Pribilof Islands. Many other internees did not survive the poor conditions in the Funter Bay internment camp.
"A lot of our people died there in Funter Bay and en route to Funter Bay," he said.
Fratis calls himself an Aleut, while many younger tribal members prefer the term "Unangan." The name "Aleut" was originally bestowed upon their ancestors by Russians.
"I'm an Aleut, and if someone says I'm other than that, I don't like it," Fratis said.
Speaking in his home in St. Paul last week, Fratis delivered a special message to Unalaska. Ancestors of St. Paul Aleuts were kidnapped from the Aleutian Islands chain by Russian fur traders and forced to work harvesting fur seals in the Pribilofs.
"We're actually from the chain," Fratis said. "The Russians brought us here, and then the government."

Fratis is on the St. Paul tribal council; he's also involved in teaching Aleut language and traditions to kids and adults on St. Paul.
"Anyplace I meet people, I greet them in Aleut," he said.
This summer, he helped teach teachers of Aleut in an intensive language workshop. He coached the teachers in their speaking.
"Show your expressions when you talk," he said he told them. "You're speaking like robots."
Fratis said the island's language-revival efforts are going to succeed, though it won't happen overnight.
"We have to make it work," he said. "That's our identity of who we are."
The Elders and Youth conference's youth keynote speaker is Lacayah Engebretson, a Tlingit, Yup'ik and Athabascan student from Glenallen studying at the University of Alaska Anchorage. She's scheduled to speak about the importance of Alaska Native educators.
Last year about 1,100 people attended the conference.