2 Captains Charged with Catching Undersized Crab


Friday, November 14 2014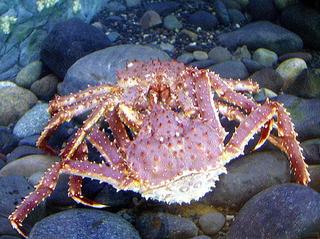 Two boat captains were in Unalaska District Court on Thursday after being caught with undersized red king crab.
Thirty-two-year-old Elliot Neese is the captain of the F/V Saga. The vessel was cited during a delivery of red kings last week. Dockside samplers found that 3.3 percent of the crab on board was illegal -- either too small, or female.
Neese called into court from his vessel Thursday. And so did Peter Liske, the 66-year-old captain of the F/V Valiant. He was found with a catch that was 2.7 percent undersized in late October.
These are the only two violations that Sergeant Robin Morrisett, with the Alaska Wildlife Troopers, saw this season. He says that's pretty typical -- and that usually, it's inexperienced deckhands who cause the problem.
"You're supposed to measure the crab, right? And you should stick every crab," Morrisett says. "Now, if you watch the Deadliest Catch ... they drop a big pile of crab there – you can see 'em, they go, yep! And they go – whoop, and they swoop 'em all in. Who knows if there's any females in there, or undersize? It's just an average, boom, and the whole pile goes in."
It's not clear if that's what happened aboard the Saga, which is featured on Deadliest Catch. But this isn't the first time the boat's captain has run into trouble with undersize crab. A few years back, Elliot Neese was cited for a catch of blue king crab that was 5.5 percent undersized. That was aboard the Ramblin' Rose.
Peter Liske, on the Valiant, hasn't had an issue with illegal crab in at least a decade, according to Sergeant Morrisett.
Both captains will get to keep the legal part of their hauls this season. But they haven't decided yet if they're willing to pay the few-thousand dollar fine for the undersized crab. If they don't, their cases will move forward in court as misdemeanors.