Administration
General Manager
Lauren is a longtime resident of Unalaska. She started her time at UCB working in television production for Channel 8 in 2002. Lauren was promoted to station manager in 2006, and enjoys working with an excellent staff and board to provide public radio and television programming to the community of Unalaska.
email: lauren@kucb.org
List of Board Members
Matt Lightner, Chair
Robi Harris, Vice Chair
Shari Coleman, Board Member
Lori Gregory, Board Member
Alysha Richardson, Board Member
Chellsea Rider, Youth Representative
Shawn Rudio, Board Member
Rose Sevilla, Board Member
email: ucbboard@kucb.org
Fundraiser
Mika grew up in Unalaska and has spent the last several years traveling, periodically returning home between trips abroad. She has worked at KUCB in the capacity of web producer, weather girl, and now fundraiser.
email: mika@kucb.org
---
News
Interim News Director/Reporter
Greta Mart is reporting for KUCB through the end of the year. She comes to Unalaska from Berkeley, CA where she graduated this year from the UC Berkeley Graduate School of Journalism. Prior to earning her master's and making the transition to radio journalism, Greta was a newspaper reporter for over a decade. She considers Port Townsend, WA her hometown, and when in the Bay Area, she lives on her '30 Catalina at the Berkeley Marina.
email: greta@kucb.org
---
Radio
Producer
Vic launched our first ever live morning program, AM Unalaska, in 2012. He hosts NPR Morning Edition from 7 - 8, and DJs from 8 - 10. He also brings us daytime weather spots, tides, and moon phases.
email: vic@kucb.org
Volunteer DJ
Bryan has volunteered for Unalaska Community Broadcasting since 1990. His most recent endeavor is his Monday evening program, CityZoo. You can catch Bryan on KUCB Radio every Monday night from 9-11 PM.
email: cityzoo@kucb.org
Volunteer DJ
Beard Radio started as a collaboration highlighting the best in roots rock reggae ethos, featuring punk, jazz, soul, indie and alternative rock and other protest music from all eras and regions. We play classic albums from little known artists as well as a compendium of mixed tape tracks. I actually do not have a phenomenally crazy beard by today's Portland, Oregon craftbeer-drinking lumberjack-hipster standards, but it has nothing to do with the music, so listen Fridays at 10pm & Mondays at 8pm.
email: thebeard@kucb.org
facebook: https://facebook.com/thebeardradio/
List of Board Members
Michelle Cochran
Kyle Clemmer
Ethan Nichols
Brett Richardson
Kelly Stiles
Bryan Stafford
Volunteer DJs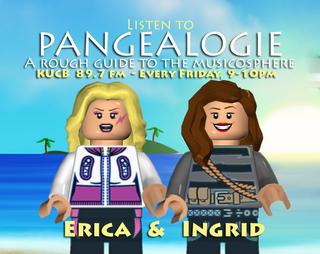 Creator and host of Pangealogie: A Rough Guide to the Musicosphere, a one-hour international music-focused show. In her spare time, Erica backpacks around the globe to obtain unique music for her show. She is currently working diligently to reach a band that performs exclusively in a submarine underneath the glaciers of Antarctica.
Volunteer DJ
Chris has lived on the island since 2009. He has experience in jumping out of perfectly good airplanes, invading small countries and setting up puppet governments; none of which will be of any use as a radio host for the weekly radio program airing Monday afternoons at 1pm (AKST) on 89.7 FM KUCB. So just tune in.
Volunteer DJ
Ethan moved to Unalaska from Juneau in 2014 and is excited about his new surroundings and the opportunity to be a part of KUCB. His radio show, Far West Bluegrass, is on Saturday night from 10:00 to 11:00 PM and features bluegrass and other traditional American music.
email: farwestbluegrass@kucb.org
Volunteer DJs
Tune in on Wednesday evenings from 8 to 9 PM for Josh's show "Good Enough." The show attempts to follow a theme to avoid complete randomness, and it is usually an hour of great rock, both new and old, and an eclectic mix of tunes from other genres. The music might not be great, but its Good Enough!
Producer
Kristin grew up overseas and has since developed a love for eclectic musical styles from various cultures. She likes the outdoors, photography and is an avid steel drum musician. Before arriving to Unalaska in 2014, she traveled on tour with a Canadian steel drum orchestra. She made her debut as a co-host on the AM Unalaska show with Vic (the most interesting man on the island) Fisher. Then naturally started her own show, "KO on the Otter Radio Show" she enjoys livening and motivating fellow Unalaskans with their work days through her musical selections and themes.
email: kristin@kucb.org
Volunteer DJ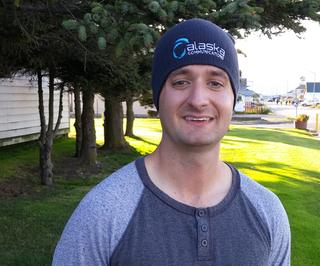 Mike is from Massachusetts and joined the Coast Guard 13 years ago. He has gone to a variety of shows in Boston and San Diego. He listens to music from 80s, 90s, 2000s and as volunteer DJ, plans on playing a variety of style of music to reach a wide range of listeners for his show, Mike on the Mic. Tune in on Tuesdays at 8 PM to hear him on the airwaves.
Volunteer DJ
Jon, Tony and Kris are new to the island and are self-proclaimed seasoned experts at observing professional sports. Their training includes long lazy Sunday afternoons of recovering on their couches and watching professional football. Their football knowledge extends to playing and bloviating with others fans from around the country. Additionally, they are well conversant in college football, major league baseball, ping pong, and anything else they think they know the slightest little thing about. Catch their show Fantasy on the Island on Fridays from 8-9 PM.
Volunteer DJ
Kerry McNamara is the music teacher at Unalaska City School District and has lived in Unalaska since July 2012. Originally from Northern Virginia, Kerry graduated from The Ohio State University before beginning her teaching career in a middle school back in her hometown of Woodbridge, VA. Seeking adventure, she then went to teach K-12 in Winnett, Montana. While there, she had the privilege of subbing in the Billings Symphony Orchestra on clarinet and bass clarinet for a concert conducted by Marvin Hamlisch. After her time in Montana, Kerry was offered the chance to teach in Dutch Harbor and is still excited every day about being here. When not teaching, she can be found hiking as much as possible, fishing, berry picking, spending time with friends, playing music, and enjoying everything Dutch Harbor has to offer.
---
TV
Channel 8 Production & Operations
Pipa brings design and video production experience to Channel 8 Television. She's been involved in filmmaking and video production since 1998. She moved to Unalaska mid-2004 and on the day after her arrival, called Channel 8 to volunteer. She began working part-time a year later and jumped to full-time in late 2008. She shies away from being in front of the camera but has learned to not be shy asking volunteers to help out.
email: pipa@kucb.org
TV Producer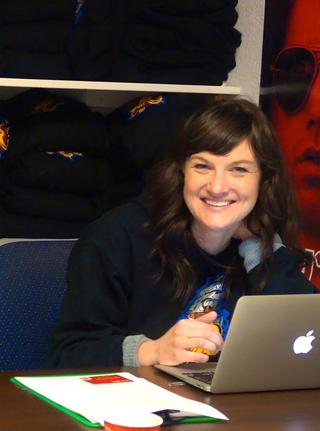 Chrissy is a recent transplant and KUCB's newest producer helping capture Flash! Unalaska and other TV-worthy happenings around town. She hails from Portland, OR where she worked primarily with puppets at a stop-motion animation studio. She's excited to re-join a world with real people and live-action and can think of no place better to do so than Unalaska.
email: chrissy@kucb.org